What we've been up to
The organisers of Redefest, a wonderful local music festival, asked us to repair a damaged 10×8 m2 marquee.  Heavy-duty repairs are certainly within our remit.  Redefest is a volunteer run festival, with two stages and plenty of activities and workshops.  At £6 per adult, £4 per child of £15 per family, I can't think of anywhere better to be on the 2nd of August!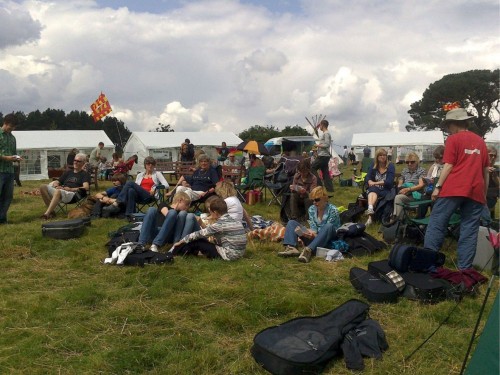 Source: Redefest http://www.redefest.org.uk/
Unfortunately the fabric quality was such that any stitching would have pulled through. Not a patchwork job! On that occasion we had to recommend investing in a superior canvas or polyethylene model which would stand the test of weather and time.
Requests to repair and make items have gently floated in, including specific commissions.  We've made dog coats for two hard-working canines at Cragside, the amazing home of Lord Armstrong – Victorian inventor, innovator and landscape genius.  It's the first home to have been lit by hydroelectricity! The house is quirky and beautiful inside, and well worth a visit – but its grounds are even more beautiful still. From the steep rock gardens running down from the house surrounded by ginormous evergreens to the vast area of rhododendron forest, it's a children's (and dogs') paradise!  We also made 2 sun hats for the hard-working owners of the aforementioned canines.
Next on the list – the Town Crier's outfit for Elsdon's Annual Summer Fete.  On Monday 25th of August, get down to the fete for children's entertainment, stalls and games from 2pm.  We hope you'll be impressed by some flamboyant 'hear ye!' action.
We also made delicate repairs to a whirling dervish's treasured Turkish silk scarf, and completed heavy-weight covering of Tarset Tor Backpackers bunkhouse sofas – we love the lime green trims!